4 tags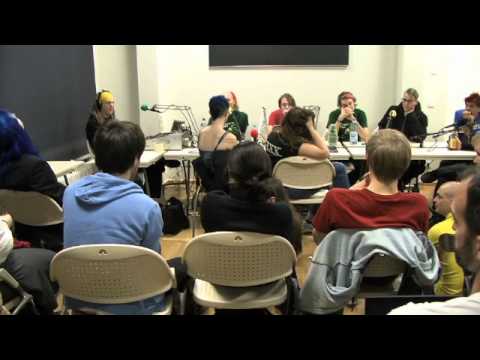 Apple releases (PRODUCT) RED iPhone bumper
Apple sneaked a new product into the online Apple Store, and while it's nothing big and exciting like a new Mac Pro, it might be something that TUAW readers who support the (PRODUCT) RED project could get into. The new product is a (PRODUCT) RED iPhone bumper (US$29.99), just perfect for your iPhone 4 or 4S. As with the rest of the bumpers, the (PRODUCT) RED bumper feature two-tone colors...
3 tags
Apple's new Mac ads feature a helpful (and cute)...
EDITOR'S NOTE: Normally Apple announcing new ads wouldn't generally make the cut for NewsQueeks.  But..I think you'll agree..the new ad boy is cute.  Don't you agree?  :) My first thought, when I saw Apple's trio of new Mac ads that premiered during NBC's Olympicscoverage last night: "Was it a deliberate casting choice to go with a guy who would remind...
3 tags
Asteroid named for gay rights pioneer Frank Kameny
A Canadian amateur astronomer has named an asteroid he discovered after U.S. gay rights pioneer Frank Kameny, who died last year in Washington. Kameny, who earned a doctorate in astronomy at Harvard University, was an astronomer with the U.S. Army Map Service in the 1950s but was fired from his job for being gay. He contested the firing all the way to the Supreme Court and later organized the...
1 tag
EA Joins Gay Marriage Coalition
EA has signed an amicus brief asking to appeal the Defense of Marriage Act. Love or hate EA, you have to admit that when it comes to LGBT rights and same-sex marriages, they've taken a strong public position. Whether in the form of an "It Gets Better" video starring EA employees, openly celebrating Pride month, or responding to an anti-homosexual email campaign, the company...
'Mitt Gets Worse' campaign warns of Romney's bad...
The Courage Campaign and the super PAC American Bridge 21st Century have joined forces to produce "Mitt Gets Worse." The multimedia campaign seeks to warn LGBT Americans about the dangers that a victory this fall by former Massachusetts Gov. Mitt Romney (R) could pose for them and their families, as well as to provide the means for voters to push back against the Romney campaign's message of...
4 tags
Internet's Reaction to J.Lo "Lesbian Show" Shows...
Releasing important or controversial news on a Friday has historically been seen as a ploy to bury a story, the theory being that nobody's going to pay much attention to it because they're too busy watching the clock. It's been done by Bush's andObama's White House, in fact. This past Friday afternoon, ABC Family (allegedly) announced that they're going...
Chicago's LGBT community welcomes web-based...
Political coverage, news, entertainment and education are the hallmarks of Gay Chicago TV – the creation of Jhonmar Castillo, who together with his life-partner, Ryan Witmer, founded the web-based station in 2011 to focus on the issues, events, and people, important to the city's LGBT community. It's probably no surprise to anyone that the way news is delivered has, in less than a decade,...
LGBT British and American Students Report Similar...
More than half of British LGBT secondary school students report experiencing homophobic bullying, about the same as reported in a similar survey of American LGBT students. The University of Cambridge's Stonewall School Report shows the amount of children reporting homophobic bullying has dropped 10 percentage points, to 55%, since 2007. Fifty-three percent of the 1,614 gay youth surveyed...
1 tag
Google: 'Legalize Love' campaign isn't about gay...
The Internet has been buzzingthis weekend over a reported announcement by Google that it is launching a worldwide push to legalize same-sex marriage. However, the tech giant says its new "Legalize Love" campaign isn't about gay marriage at all, but rather supporting workers in countries that criminalize homosexuality. "'Legalize Love' is a campaign to promote safer conditions...
3 tags
Gay Couples Can Now Professed Their Undying Love...
Interactive social networking website Facebook has recently launched its same-sex couple icon. With world leaders like President Barack Obama supporting same sex marriages, more and more groups have become open-minded in embracing and including this marginalized sector of society in their respective businesses and social concerns. About a few weeks ago, Apple also launched its same-sex couple and...
2 tags
"Many, as Hall used to be, are out to friends, but not to the world at large...."
– Bruce Byfield, Thinking about Alan Turing, Linux Magazine
1 tag
Google searches the world over, finds too much...
Google is launching a new campaign calling on countries to 'Legalize Love' – making it legal to be lesbian, gay or bisexual around the world.  The campaign, which will officially launch tomorrow (7 July), is likely to start by focusing on Poland and Singapore but eventually spread to every country where Google has an office around the world. 
2 tags
Two Philly Guys Create New Gay Travel Site
Partners in life and business, Mike Sheridan and Jim Werner were first inspired to createFagabond in 2007. Tired of using the same old websites to plan their oh-so-gay vacays, the couple decided to create a full-service travel site exclusively for the LGBT community. Werner, who works at a tourism and marketing organization, and Sheridan, at a luxury hotel, may both live in Philly, but their new...
Popular Gay App and Gay Website GuySpy Announce...
Popular gay chat app and blog reaches out to the international gay community to show support for LGBT rights by taking part in this summer's WorldPride celebrations. While East London is gearing up for the Olympics and Buckingham Palace is still reveling in the pageantry of the Queen's Diamond Jubilee, Soho, London is preparing for its own moment in the global spotlight – WorldPride 2012 – and...
6 tags
Facebook, Google, And Other Tech Companies Show...
Pride got high tech this weekend as thousands of employees from Google, Facebook, Electronic Arts, Zynga, and more celebrated to support equal rights for everyone. Parades in San Francisco and New York saw search engine, social network, and game developer logos decked out in rainbows as engineers danced in the streets.
3 tags
Anonymous punishes Uganda for persecution of LGBT...
Anonymous hacks and defaces multiple Ugandan websites in retaliation for governement intimidation and harassment of the LGBT community in Uganda. GSec (Grey Security), a hacking crew associated with the international hacktivist collective known as Anonymous, isclaiming responsibility for hacking and defacing multiple Ugandan websites, including websites belonging to the Ugandan parliament,...
4 tags
Adam Goldman Is In With Web Series 'The Outs'
Adam Goldman is the writer, director and an actor on his own hit series,"The Outs." If you are young, gay and Internet-savvy (as most young gay men are these days), then you have probably heard of his show since the first three episodes are already out. If you are not any of those things, you should still check out the show. Once the gay blogs (Out.com, Queerty, Towleroad, etc.)...
3 tags
Google supports LGBT Pride Month in search results
Google is marking any LGBT-related query this month with a rainbow-colored banner under the search box. The Mountain View, Calif.-based Company is once-again celebrating LGBT Pride Month, as it has down for the last five years in a row, by adding a bit of color to its search.
2 tags
Iran's Apple product vendors say iOS devices...
Apple product vendors in Iran are laughing at reports from last week about U.S. Apple Store employees refusing sales to Farsi-speaking customers. According to a weekend story from the Agence France-Presse (via MSN News), iPhones and iPads are widespread throughout Iran's capital: One salesman who gave only his first name, Hossein, told AFP that he had sold 40 iPhones the day before, and...
5 tags
National HIV Testing Day: Take the Test and Risk...
Today (June 27) is National HIV Testing Day and there will be a truckload of press releases encouraging people to get tested for HIV.  Getting tested for HIV is a good thing; knowing one's HIV status is important, both to protect one's own health as well as the health of one's partners. But no one should get tested without also understanding the legal implications.  HIV...
1 tag
4 tags
Google I/O 2012 Liveblog
The 2012 Google I/O Developers Conference starts today at the Moscone Center West in San Francisco, Calif., with events continuing until June 29 at 4:30 p.m. PST. For those interested in what the folks at Mountain View are announcing this morning, check out9to5Google. 
3 tags
Jon "maddog" Hall comes out at 61
Jon "maddog" Hall, the well-known free software advocate, writer for Linux Magazine and executive director of Linux International, published an essay recently titled In Honor of Alan Turing: A message from the sponsor announcing that he's gay. In the essay, he describes how he didn't tell his Christian fundamentalist parents, but notes that computer science has historically...
3 tags
Internet critical for Iran's embattled gay...
New research by the UK-based non-profit Small Media has found that Iran's gay community — a group that operates largely underground because homosexual activity is punishable by death in the Islamic Republic — relies heavily on online activity.  The "LGBT Republic of Iran: An Online reality?" study drew from online interactions with users in Iran to reveal a highly-active virtual...
4 tags
Netflix Features Movies for LGBT Pride Month
One of the most entertaining ways to celebrate LGBT Pride Month is by watching some of the fabulous LGBT movies and TV shows here on Netflix, all available to watch instantly.
A tribute to Turing, the father of modern... →
3 tags
New website aims to promote gay marriage
A Bemidji native was in Duluth this week inviting gay people to come out of the closet on the World Wide Web. The website Great Minnesota Outing was created by Jon Staff as a response to the proposed Minnesota constitutional amendment banning gay marriage. Staff set up four sessions for people to record and submit their stories, including a session Thursday in Duluth. Three other sessions were...
2 tags
LGBT's Influence In Video Games
In spirit of Gay Pride Week, I'd like to change it up and do an article on LGBT's influence in video games. Being a "Gaymer" myself, I get some pleasure in seeing the involvement of homosexuality in my video games. With it being a touchy subject and involvement with the themes of gaming these days, it is unfortunate it is a scarce touch in games. In any case, whether it's comedy relief in...
5 tags
Games For Change: Robert Yang's 'Gay Rant'
Games for Change! It happened! Robert Yang was there! This linkwill take you to his blog post that has embedded video (I can't find the embed code, as it isn't apparent from that particular site, so go have a look). It's not much of a rant, so mch as it is making an argument for a more diverse setting in games. Name-checking some of my favorite designers, Anna Anthropy and...
4 tags
One game designer's mission to address gay issues...
As a self proclaimed "game designer and practicing homosexual," Yang uses video games with gay themes to "describe how [people] live as gays." Yang was a speaker at the Rants session of the Games for Change conference in New York on Tuesday. He was there to talk about "gay stuff in video games", as his blog described it.
3 tags
Electronic Entertainment Expo Inspires Look At 10...
E3 is an annual reminder of the gigantic international cultural force that video gaming has become. With that in mind, we have prepared a collection of ten LGBT characters to celebrate developers who have used their influence to challenge inequality and question traditional notions of gender and sexuality through their games.
3 tags
Android Tops LGBT-Favored Brands in U.S.
Google's Android mobile operating system is #1 on the top 20 brands favored by the LGBT community, according to the researchers at YouGov BrandIndex. Last year, Google's YouTube topped the annual LGBT ranking.
6 tags
Apple iOS 6 to Include Gay and Lesbian Couple...
The next version of software for the iPhone and iPad will include gay and lesbian emojis for the first time. Emojis are the small emoticon-like icons or pictures included in some phone operating systems. They can be inserted into text messages or emails.
8 tags
Now accepting new contributors
Interested in helping run NewsQueek?  Here's your chance! Contact us to become the latest contributor to NewsQueek:  http://www.newsqueek.com/ask
3 tags
Grindr: When location apps overshare, predators...
When "John," a gay man from a southern town in the U.S., stumbled upon Grindr, a location-linked app for gay men, he saw it as an opportunity to meet like-minded people in his hometown. "I thought it was neat because you got to see the proximity of people — you knew you weren't talking to someone from California," he said in an interview with CNNMoney. (John is not his real name. He requested...
3 tags
The Outs: Your New Favorite Kinda-Gay Web Series
If there's one thing I love more than hot men holding baby animals, it's the new web series "The Outs." For those who need to know before continuing, "The Outs" is pretty gay. It's gay in all the best ways. The nuances of the show bring "gay" to life in a way that is much more real than clubbing, Grindr, coming-out stories, and other images portrayed and limited by mainstream media.
3 tags
DailyHookup.com Celebrates Pride with New Website...
The Daily Hookup (http://dailyhookup.com) has a fresh look, new nationwide platform and exclusive new offers for members from authentic, progressive, detail-obsessed brands.  The Daily Hookup launched in public beta on June 20, 2011 and presented local and national offers to members selected by 12 stylish, trend-focused curators in NYC, DC, LA and San Francisco.  The website gained national...
10 tags
Live Coverage Of Apple's WWDC 2012 - aka the Queek... →
Watch the kickoff and ongoing coverage of what I like to think of as the Queek community's annual Super Bowl - also know as Apple's Worldwide Developers Conference. Check it out!!
Home | Harvey Milk Day →
Watch
(via Rachel Maddow: Obama declaration icing on the cake of legacy advancing gay rights)
When Obama endorsed same-sex marriage...
whenobamaendorsed: … my office was all:
When Obama endorsed same-sex marriage...
whenobamaendorsed: … I was like:
The Resurrection Brings Gay Events App to iPhone
Wsup Co., the company behind WsupNow.com, today announced the release of the first comprehensive gay and lesbian event finder app for the iPhone. Like the website, the Wsup Now app serves as a gay and lesbian event discovery tool, providing locals and tourists instant access to hundreds of LGBT-related events nearby, with just a tap.
5 tags